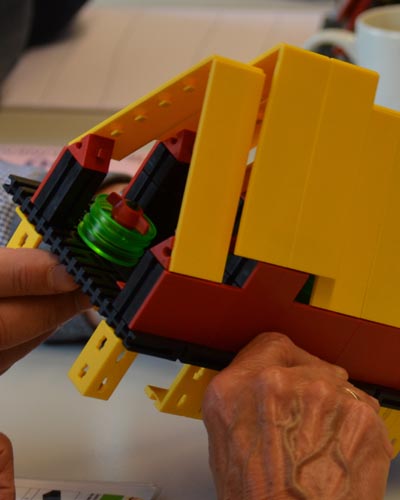 Bedaux Home Building Game
Home Building Game is developed for companies and organizations working project oriented. Participants are challenged to construct buildings using Fischertechnik components in accordance with customer order specifications. Not meeting the customer's requirements is severely punished. The assignments vary greatly in size and complexity. This creates irregularity in the order intake process, with which the participants have to deal in order to achieve a balanced organization.
Continuous Improvement and Lean are key elements throughout the game.
Because everyone has a practical and emotional relationship with housing, this game is suitable for very diverse groups of participants.
All our game programs are made to measure. That means that we have a previous conversation with the client; then we jointly put together a program where we from our side deliver and facilitate a professional and enthusiasmizing game performance. The client self as a rule organizes presentations and discussions in between the game rounds, where the resemblance between what is happening in the game and in real life is highlighted. Positive energy from the game will then be translated into supported actions.
Playing the game without presentations in between is an option. The game then gets more the character of a brainstorming session or a team building event.
Depending on the objectives of the program, the total program will take from one day to two days. We have a clinic version of half a day.
Why Bedaux?
gallery
Contact us